Stop Sleeping on Yourself, the World Needs You!
Me and my mama, back in the day!
First, I have to acknowledge that today I celebrate the life of my guardian Angel, my mama! Happy heavenly birthday! At first I was going to write a long sappy post about how much I miss her....then, I said, "Not today". Instead, I am going to focus on positivity and get my ish together and besides that is what she would want on her day!
That being said, today, I will remind YOU to get your ish together and deliver the gifts God has planted in your heart because someone, somewhere, needs YOU! Have you ever had someone to believe so deeply in you that you become uneasy because deep down inside you know you're not giving yourself enough credit for how dope you really are?
I can't be the only one!
Recently, while talking with a special someone, they were sharing ideas with that would be good for PT98. They seemed more confident in the brand than I did. As they chatted away I couldn't help to notice how passionate they were....how deeply they believed in me.
If you had to ability to view just how amazing they are, through the eyes of others, image how powerful you could be. We are so hard on ourselves? We discredit our skills, talents, purpose, and ability to influence others. I mean....just think about it!
Even as I write this, I am reflecting on all the people who have come to me for advice…ranging from health, business ideas, fashion, or simply just to vent. While it may seem insignificant, it says a lot about the value and respect they have for me.
See that quote up there? Yes, that one! I often see this quote plastered on all over social media but one day it was as if a light bulb went off. I understood the quote and honestly I was annoyed…but why? Maybe it was because deep down inside I was feeling convicted about not doing what I needed to do in support of my personal brand, Pink Treasures 98. After all, PT98 is bigger than me. Truthfully, it's not about me, at all. When I first launched, I was scared out of my mind. I was nervous about the thoughts of others, my ability to be creative, funding, and most importantly the representation of my mother. Unfortunately, I've allowed the thought of, "nobody ain't checking for what I have to say", to distract me from the purpose of my brand, honoring my mother and supporting the breast cancer community.
Crazy part is on so many occasions people have reached to me and expressed how thankful they were to have found me on social media because of the inspiration or just thanking me for being supportive of the breast cancer community.
I could ramble forever but my point is to simply encourage you to get it together and deliver on the gifts that God has given you to give to the world. When you sit on your gifts and talents, someone could potentially miss the opportunity that could untimely change their life. Some may say, "they can get it from somewhere else". True, but maybe the way you deliver it is presented is such a way they are able to receive it"….I'm just saying.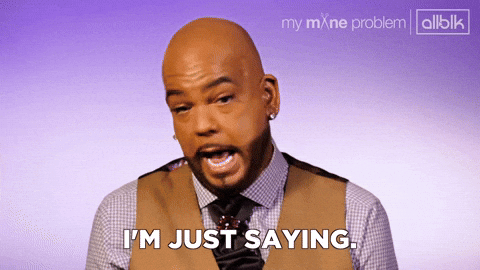 So what is it? A book, a movement, a nonprofit, blog?
The world is hungry for healing so do your part. Please and thank you.
Hope you have enjoyed this read. If you wish to connect with my beyond the blog, you can email me at pinktreasures98@yahoo.com.